Volunteer Lawyers for Justice Honors Allison Schrader Dunn
National Volunteer Week:
April 19th – April 25th 2020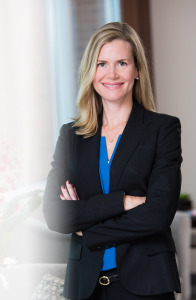 Today we want to honor our many expert mentors that help VLJ staff and volunteers confront some of the most difficult legal challenges facing our clients. We're highlighting one of our dedicated family law mentors, Allison Dunn of Gomperts Penza McDermott & Von Ellen, LLC. Allison volunteers regularly at the Union County Divorce Clinic, where she assists pro se litigants in preparing for their divorce proceedings and advises other volunteers on a variety of family law questions. Outside the clinic, Allison serves as a mentor to VLJ staff on a range of family law issues and consistently volunteers to assist clients in preparing documents. When the VLJ Divorce Team put out the call for volunteers in the midst of COVID-19 crisis, Allison was one of the first attorneys to respond to answer questions, mentor staff, and even take on drafting an answer and counterclaim remotely for a client in need. Thank you Allison for all you do and a thank you to all our mentors during this National Volunteer Week!